In the event of encountering issues with your flat roof—such as leaks or storm-induced damage—it's crucial to hire a roofing company you can trust. St. Louis Roofing Company is a specialist in flat roofs for commercial and business buildings throughout the Metro St. Louis area and Illinois.
We take pride in our team of professional and experienced commercial roofing contractors, ready to address any issues you may encounter with your flat roof. Upon assessing your flat roof, we will propose the most suitable solutions tailored to your specific needs. Whether it involves installation, replacement, or repair, we assure you that your commercial roof will receive the utmost care and expertise.
Our Commercial Flat Roof Repair Services:
Many buildings in Missouri have flat roofs.  We are all about putting our customers first and following through on our word. Our flat roof services include:
Installation
Just like people, not all buildings are identical. When you hire us to install your flat roof, we will take a look and assess your business' roof to make the best decision on which roofing system is the best for your needs.
Repair
Similar to other roofing systems, flat roofs also require repairs. Our process involves conducting a thorough inspection of your flat roof and sharing our findings with you. We uphold our integrity by providing an expert evaluation of your commercial roof's condition.
Replacement
There may be scenarios when a simple repair might not sufficiently address the issues or damage present in your roof. In such cases, our approach to roof replacement focuses on identifying the most suitable and cost-effective solution, ensuring its correct installation on your commercial building. Flat roofs come with a range of warranty options, and we're committed to providing comprehensive consultation and guidance, enabling you to make an informed business decision.
We are the Best Choice for Flat Roof Repair Services
Installing or repairing an industrial or commercial flat roof takes skills and technical knowledge. Our experienced professionals not only have years of experience, but also have certified training to set St. Louis Roofing Company employees above the rest.
St. Louis Roofing Company has been in the roofing installation and repair business since 1848. You can rest assured that you have quality roofing company of professionals on your flat roof.
Call us today at (314) 436-3788 for more information, bids, or ideas for your commercial roofing project.  Talk to us about why we are the best choice to be your roofing contractor for your flat roof repair or installation.
Storm damage or the unexpected repair need is our specialty.  Whether the common St. Louis region hail damage or possible tornado damage, we can be on the scene to help put together an emergency plan. Commercial and industrial roofs are investments we take seriously and want to come along side you during these hectic times.
Contact Us Today!
We want to hear more about your project.
Call us in Missouir at 314-436-3788 or in Illinois at 618-337-9061
Contact Us
1722 Olive Street, Suite 203
St. Louis, MO 63103
MO: 314-436-3788
IL: 618-337-9061
Click to Email Us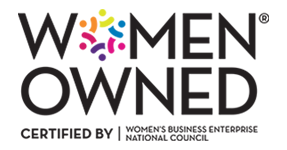 The Best in Commercial Roofing
St. Louis Roofing provides commercial and industrial roofing throughout the St. Louis Metro area and Illinois. Specializing in flat roofs, we are one of the only local commercial roofers certified by three top tier manufacturers. Established in 1848, we are a woman-owned business and a union shop with trained and experienced journeymen. St. Louis Roofing offers warranty on labor and materials, so our clients can be confident they are making a good investment.
St. Louis Roofing Company, Inc. is certified as a Women's Business Enterprise (WBE) through the Women's Business Enterprise National Council (WBENC), the nation's largest third-party certifier of businesses owned and operated by women in the US.
We recognize the commitment to supplier diversity that is embraced by corporations and government agencies today, and we can add diversity to your supply chain. St. Louis Roofing Company, Inc. provides commercial and industrial roofing services throughout the Midwest.